---
click here for Blade 3.1 / 3.3.1 User's Guide
Posted on Dec 5 2013
Updated March 25 2016
---
Blade 3.1 / 3.3.1 Advanced Camera Adjustments
THIS IS NOT A DOCUMENT FOR STUDENT USE AND PERTAINS TO CAMERA ADJUSTMENT ONLY.

STUDENTS ARE NOT ALLOWED TO TOUCH THE PHYSICAL CAMERAS - IF YOU THINK THE CAMERA'S FOCUS HAS BEEN COMPROMISED email me or the cage support.

Checking Camera Focus


Click
reset calibration.


Put down markers on the floor with a few in the center and outline the volume.Step thru and adjust all cameras individually.
Set the drop down menu parameter to "all data" (grayscale mode). This allows the markers to be seen. You will set this back to "automatic" after you adjust all the cameras.
Click the icon that looks like pinstripes. Strobe should be at 1, gain 2, circularity default .5. Threshold is the most common feature to adjust. It measure how bright something needs to be. Lower threshold values will take in more things that are not so bright.

Check the visual markers in the cross hairs. Zoom into the camera (using left and right mouse buttons, middle mouse will put only that camera in view). Note that the 3-D data is constructed from the 2-D camera data so not all cameras will necessarily see all markers.
What you are trying to achieve is to have inside the circular "bullseye" a core of white, with levels of grey filling the space.
Set the menu back to "automatic" after the cameras have been adjusted.

---
Renumbering Cameras
In Camera Layout go to the
Attributes
window > Click
Advanced
button (plus sign over three dots) > scroll down to Capture heading. "
Camera_Number
" is the third line down. Select each camera (double click) and change the number manually. The values should be retained. NOTE: Re-number and then calibrate.
Another way to access this is through
Editors
>
Pipelines
>
Renumber
(Screen save from 3.3.1 below)
Remember to select
System Setup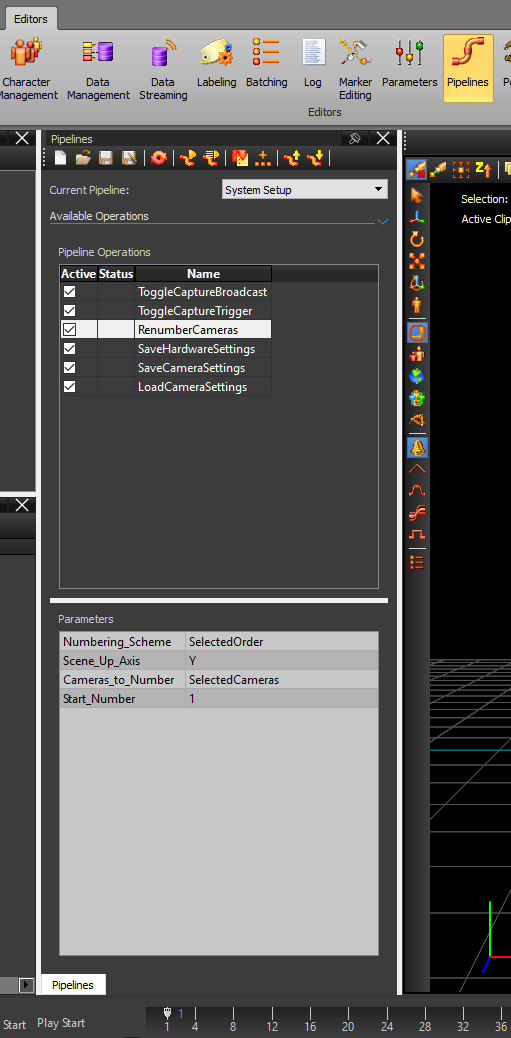 ---
Visualize Volume - dots represent how many cameras are seeing the area and are color coded - ie. red is all cameras
Auto set volume limits
set to True
Min Cameras per voxel
3 (this is the default)
Max Cameras per voxel
12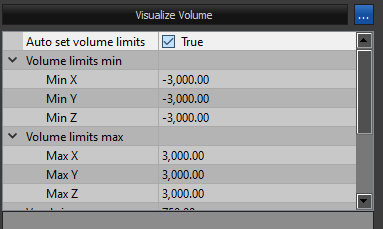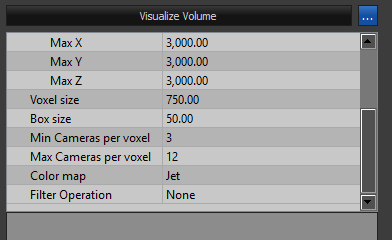 ---