---
Wrangle Node Examples

Posted on Sept 10 2016
Updated on Jan 15 2018

---
Point wrangle nodes using snippets allow you to create geometry and create UI controls. I have created two examples related to the phyllotaxis exercise. At the bottom of the page you will also find a growing list of other examples and tutorials.
The idea - google search of creating points in vex snippets - lead to three resources:
Create UI controls from cgwiki on Vex "ch() tells Houdini to look for a channel, which is what Houdini calls a UI component, usually a slider. Hit the little plug icon to the right of the text editor, Houdini scans the vex code, realises you've referred to a channel that doesn't exist yet, and makes a channel at the bottom of the wrangle UI"
Below I create an example using a
circle of circles
and then (of course) the
phyllotactic pattern
- my go to test. There are some great examples on the above sources as well. This is here more as a syntax reference.
In addition, a comparison example of using a vop and vex for
extracting image data information is here
.
A circle of points can be created using some very simple code in a point wrangle node.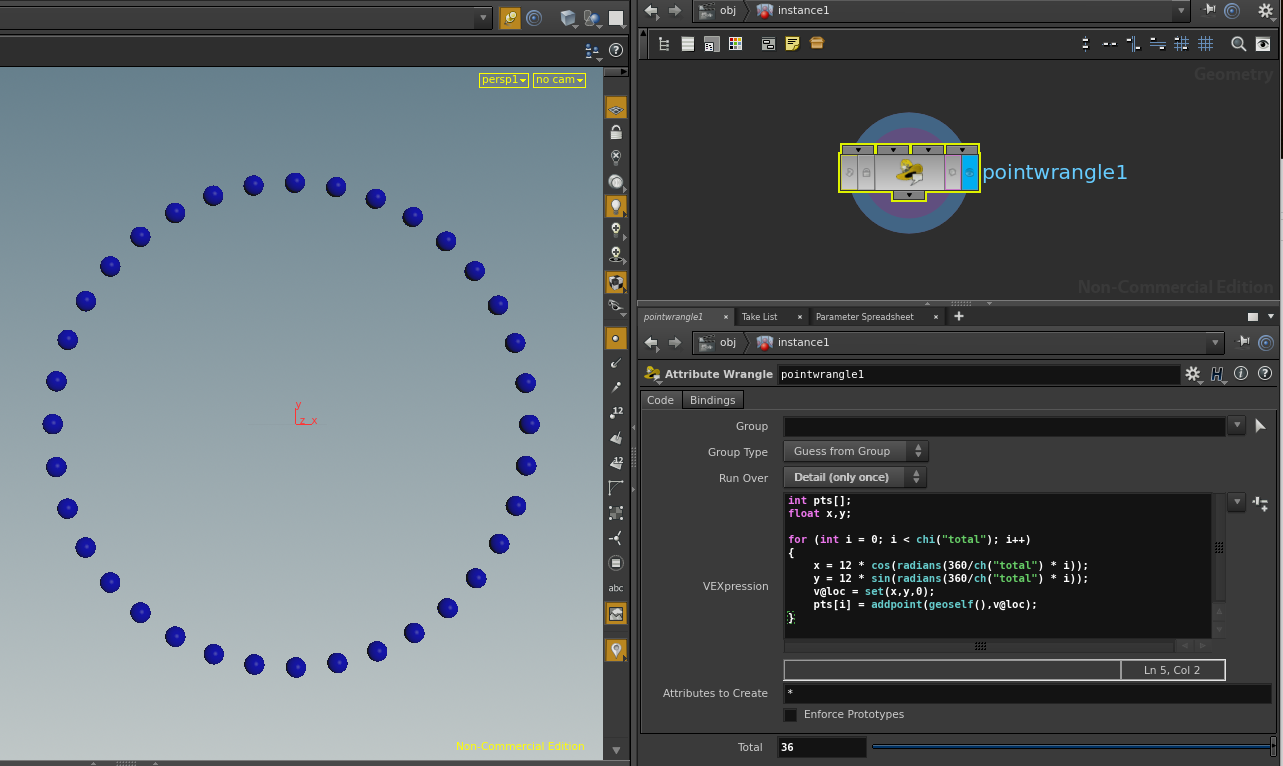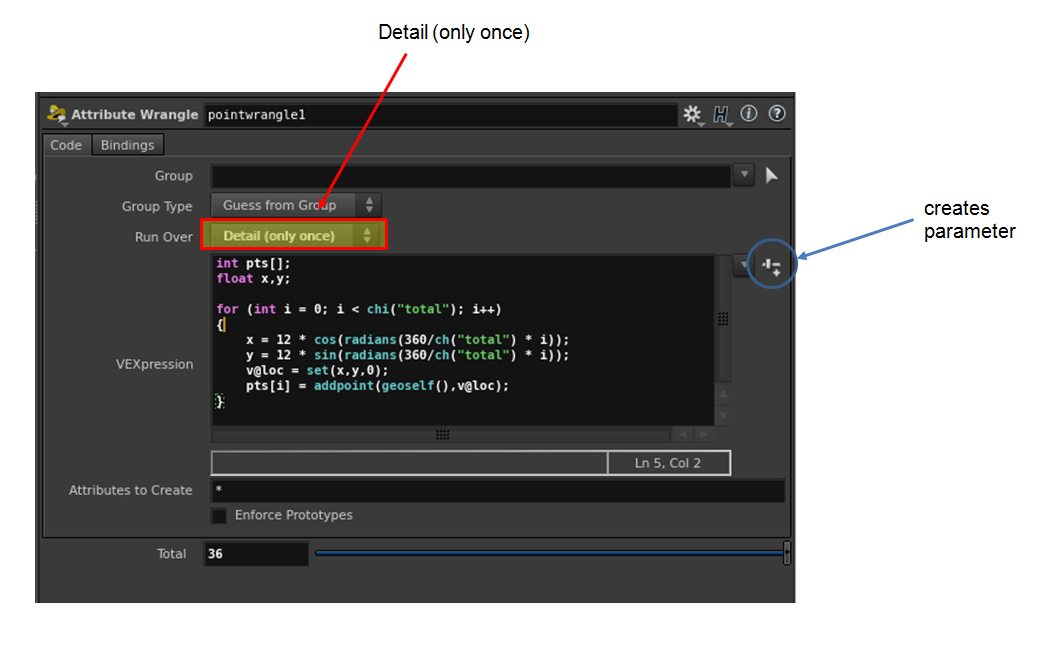 The vex snippets are similar to C++ code (take VSFX 375).
This is a simple equation of a circle (see
Phyllotaxis discussion on cartesian coordinates
)
int pts[]; creates an array
for loop structure is the same syntax as C++ code and repeats the statements inside the curly braces (body of the loop) for 0 to less than "total".
total takes its information from the parameter labeled "Total". The parameter was created by clicking the button circled in blue in the above figure.
---
Taking this one step further, we can create the phyllotactic pattern: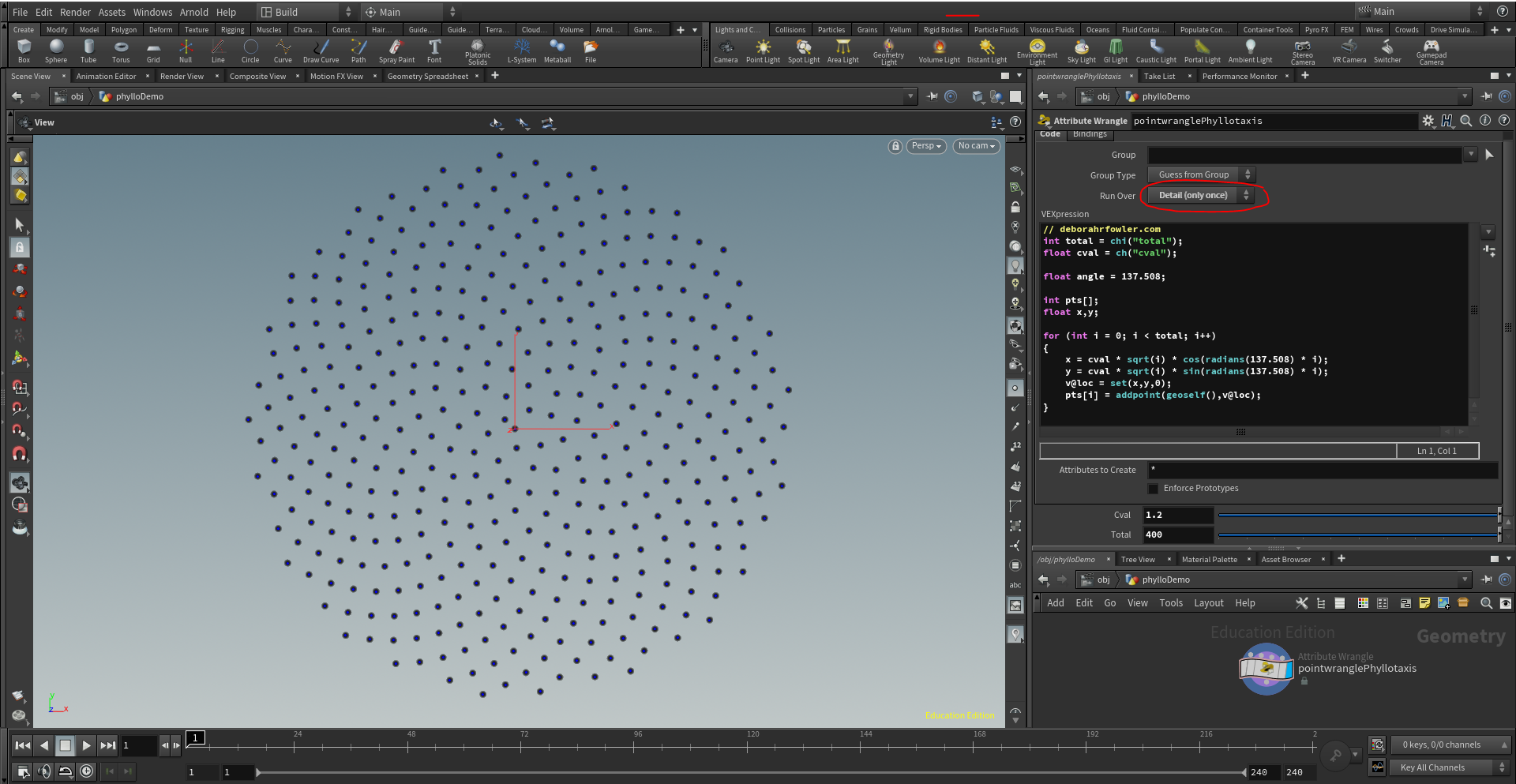 ---
Additional Excellent Examples specific to wrangle nodes:
---